On April 22, millions of people around the world will celebrate Earth Day, a time to celebrate and do their part to preserve the planet we call home.
The first Earth Day came about in 1970 as a response to a national call to action over rising levels of air pollution. Inspired by the ongoing social and environmental movements taking place across the United States, Wisconsin Senator Gaylord Nelson submitted the proposal for what would become the Earth Day we know today. The first Earth Day united groups that had been fighting individually against oil spills, toxic dumping and other activities that cause harm to the environment.
Employees are joining Greenbrier's mission to make a positive impact on our communities and the environment. Seedlings were given to some employees at our Marmaduke facility for them to take home and plant themselves.
The Greenbrier team is proud of its place in the rail industry as our peers and we work to make transportation as friendly to the environment as possible. According to the Association of American Railroads, railroads are the most fuel-efficient way to move freight over land. The AAR data shows moving freight by rail instead of using trucks reduces greenhouse gas (GHG) emissions by 75%. According to the AAR, railroads account for about 40% of long-distance freight in the U.S. but less than 2% of transportation-related GHG emissions.
Greenbrier is a relatively low GHG emitter, with a majority of our emissions being Scope 2. Scope 2 emissions are indirect and are associated with the purchase of electricity, steam, heat and cooling. Since 2020, Greenbrier has cut its Scope 2 emissions by more than 9,000 metric tons of CO2e.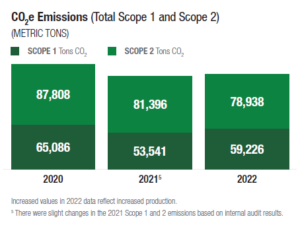 In 2022, Greenbrier set a goal to introduce a short-term energy and GHG reduction target for electricity usage and Scope 2 emissions. Our updated goal is to reduce Scope 2 emissions by 20% over the next five years. We will accomplish this by studying our electricity usage, identifying and communicating opportunities to source our energy from renewable sources and introducing projects for generating energy for our production facilities. We hope to have a minimum of two investments in renewable power by 2027.
Greenbrier is also proud to be a leader in sustainable conversions. The demand for railcar types is cyclical. Rather than storing or scrapping unused railcars, Greenbrier has created a program to convert existing covered hoppers into other services and auto racks to carry larger vehicles. Through the process, Greenbrier can also retrofit tank cars to comply with government regulations. These conversions are efficient, environmentally sustainable and save our customers money. Click here to learn more.
For more on Greenbrier's commitment to lowering its emissions and making an impact on the environment, read more in our 2022 Environmental, Social and Governance Report, On Track Together.