National Hispanic Heritage Month
September 15 to October 15 is celebrated across the United States as National Hispanic Heritage Month. It honors the cultures and contributions of both Hispanic and Latinx Americans as we celebrate heritage rooted in all Latin American countries.
While it's unconventional for recognition holidays to cross multiple months, there is much to celebrate between September and October 15: September 15 is the anniversary of independence for Latin American countries, including Costa Rica, El Salvador, Guatemala, Honduras and Nicaragua. Mexico celebrates its Independence Day on September 16 and Chile on September 18. Finally, Columbus Day or Día de la Raza, October 12, falls within these 30 days[1].
Greenbrier has significant operations in Mexico. Our international footprint and cross-cultural operations are integral to our success as a company.
Rick Galvan: The L in IDEAL
As Greenbrier recognizes National Hispanic Heritage Month, we are pleased to highlight a true representative of the "L" in IDEAL. Rick Galvan, Senior Vice President of Greenbrier Rail Services (GRS) joined the Company in 2019 with a mandate to foster organizational change, empower his employees and invest in the next generation of talent.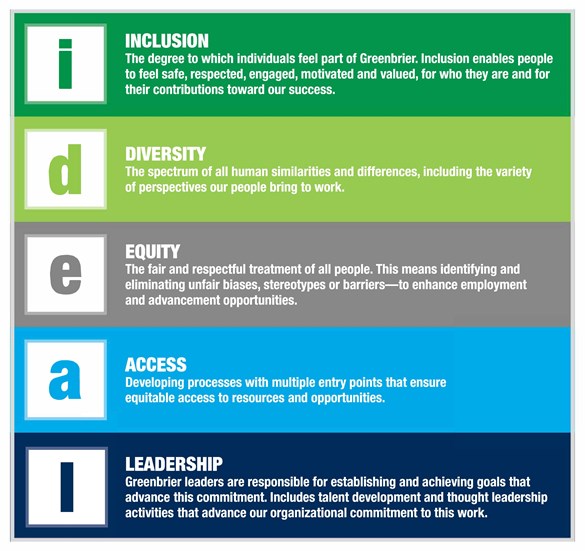 While he joined Greenbrier in a leadership role, Rick's story is one of perseverance, commitment and an unrelenting work ethic across generations of his family members. In 1944, his grandfather was a migrant worker, working six months in the United States and six months in Mexico for many years. This work provided the opportunity for Rick's parents to move to the United States as teenagers, settling in Chicago, Illinois.
When he was 12 years old, Rick started working at his uncle's grocery store and as a teenager, he dropped out of high school to work full-time at a gas station. A group of railroaders frequented the gas station and always complimented Rick's work ethic. As soon as Rick turned 18, the Burlington Northern railroad crew hired him, recommending he train as a car mechanic apprentice. Also at 18, Rick married his high school sweetheart and six months later, were expecting their first child. Working hard to support his growing family became paramount and the railroad was there to provide the opportunity for long-term growth.
Over the ensuing decades, Rick grew his career at various Class I railroads, including BNSF, Kansas City Southern and Canadian National. He obtained his first supervisory role after a couple of years in mechanical operations at BNSF, but knew he wanted to continue growing his position and skillset. To do so, Rick went back to school. First, he obtained his GED and then post-secondary and graduate degrees – all while working full-time, helping raise his daughters and receiving promotions along the way. While studying for his graduate degree, his children were also attending college, to which he jokingly says, "don't ask me if they ever helped with my homework."
Having recently celebrated 30 years in the rail industry, Rick has been on both the giving and receiving end of mentorship programs. He also specifies that mentors can go beyond the workplace. In fact, some of his most valued mentors were family members, friends and outside support systems. Rick recalls his formal mentors, car mechanics, foreman and superintendents, as being particularly influential during his early years at BNSF.
Now, as someone in a leadership role, Rick aims to give back to younger generations. With the intention to foster grassroots talent development and succession planning at GRS, he implemented informal mentoring programs and works hard to identify existing employees to promote and develop as future leaders. He maintains the management perspective that, "most of the answers on how to get things done are out on the floor rather than the office." Rick has made significant changes among Greenbrier's operations by staying true to this value. In addition, Rick recently became a Big Brother in the Big Brother, Big Sister program, further demonstrating his dedication to mentorship at work and in the community.
Since starting at Greenbrier, Rick has fostered synergies between business units, promoted the IDEAL program and led many other vital efforts. His work is not done, "I want to foster cross-functional teams here at Greenbrier. Employees from GRS should work in other units and vice versa. Greenbrier has a great culture and I want our employees to share in each other's success."
Rick's secret to leadership starts and ends with authenticity. He is dedicated to fostering mentorship, developing Greenbrier's talent pipeline, maintaining open lines of communication and being respectful and transparent with employees. Rick perfectly embodies the L in IDEAL.
"Once people trust you is when change happens. I aim to develop the team from a grassroots level so it will naturally cascade throughout the organization."
[1] https://www.hispanicheritagemonth.gov/about/