Earth Day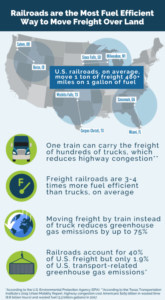 What is it? Every year on April 22, people around the globe celebrate the Earth by taking part in activities to respond to environmental issues such as pollution and deforestation. Many people and organizations partake in volunteer activities like picking up litter and planting trees – any activities that help preserve our planet! The goal is to promote a cleaner, more sustainable future and respect the Earth and its importance to us.
According to National Geographic, the first Earth Day was celebrated in 1970 because a U.S. Senator from Wisconsin organized a national demonstration to raise awareness about environmental issues. Rallies, parades and lectures took place across the country, and by the end of the year, the Environmental Protection Agency was created. In 1990, Earth Day became an event celebrated by more than 140 countries.
Our Operations
Greenbrier is proud to celebrate Earth Day by highlighting our pledge to environmental sustainability. We track greenhouse gas emissions at all our locations worldwide. In 2021, we utilized 51% recycled steel for production and reduced our water usage to 14 million gallons (the equivalent of a 25-story office building)! Our commitment to environmental sustainability can be viewed in our Environmental, Social and Governance (ESG) report.
Our Employees
Greenbrier employees join the company's commitment and make a difference in their communities. At our headquarters and Greenbrier Gunderson facility in Oregon, we partnered with SOLVE to plant native species and pick up litter in Portland. SOLVE is a wonderful organization that prides itself on improving the Earth. SOLVE
provided a summary of the impact community involvement has on its mission: "Each year, SOLVE looks forward to Earth Day to invite community members to engage in our mission of keeping Oregon's environment clean and healthy. This year, nearly 3,000 volunteers are expected to participate in more than 100 beach cleanups, habitat restoration projects and inland litter cleanups. The success of SOLVE's Earth Day celebration is largely due to strategic partnerships with organizations like The Greenbrier Companies, whose support of SOLVE demonstrates your commitment to the health and vitality of Oregon's environment," said Tony Arnell, SOLVE Development Director.
Prioritizing our environment isn't limited to our headquarters but is also encouraged in all production facilities. At Greenbrier Gunderson, our environmental, healt
h and safety (EHS) team works hard to minimize our footprint every day. "On a large scale, we improve our sustainability through our ESG plan which helps us reduce waste, air pollution, water and greenhouse gases (GHGs). On the local level, we care for the Willamette River, local wildlife and air through multiple efforts. A few of the many projects include our water treatment systems that filter out metals harmful to fish, our Spill Prevention initiative and Countermeasure (SPCC) plan. We also have our three habitat roofs that screen rainwater and provide a wildlife habitat corridor. Our vast network of ground infiltration points filter runoff and rainwater before it enters the river. These programs not only help us maintain the environment around us, but also serves to keep us up to date on federal, state and city regulations so Gunderson can continue to operate and support the community we work and live in," said Fawn Lengvenis, Greenbrier Gunderson Environmental Technician.
At Greenbrier Marmaduke in Arkansas, we have a team dedicated to collecting scrap metal to reduce the amount of waste we contribute to landfills. The team was put together by Lyndsey Holcomb, Buyer, and has been a successful endeavor to reduce our footprint and save money. Lyndsey states, "I started searching for ways to recoup funds on products we already consume… We have a local recycling facility just minutes from our plant, so we started selling our non-car scrap material to this facility. Items we currently collect are welding tips, welding diffusers, welding nozzles, plasma consumables and back gouge consumables. Copper is stripped from old weld leads and collected. We are trying to reduce our waste into the landfill, and in return, we benefit from cost savings as well bringing in extra funds."
Greenbrier corporate headquarters encourages employee-driven programs like this, and our Marmaduke team is proud to get more people involved. We are very proud of our initiative to make a difference and help contribute to a cleaner, greener future.
Our Industry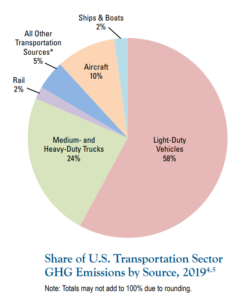 Did you know railcars are the lowest emitters of GHG in the transportation industry? A quick Google search will illustrate that rail is the transportation method best suited for a sustainable future in freight movement.
As part of our love for the Earth and recognition of such an important day, Greenbrier urges you to take time to participate in an Earth Day event that is local to you. Join us in celebrating and preserving this beautiful Earth where we live.
Earth Day Events:
We welcome you to share a link to events in your area to spread the word!